Sunday morning services
When do we meet?  10:00am every Sunday morning. at Melville Baptist Church.
Why do we meet? We meet together to encourage one another in our Christian walk, to learn from the Bible and to bring glory to the God who saved us.
Who can meet?  Our services often include a mix of folks who are committed Christians, and of people who are just observing, still deciding or just exploring.  All are welcome!
What are our church services like?
Because we think that hearing from God's Word is imperative, the central part of our services usually includes a sermon by the pastor on a passage of Scripture, as to what it means and how we might apply it to our lives.  Guest Bibles are available in the foyer for those who'd like them.
Because we want to glorify God, we also sing some songs and hymns to His glory, and to encourage one another to live for Him.  You can choose how much of this you feel comfortable with, and the words are always up from the projector.
Since we want to remember what Jesus has done for us, we celebrate communion (or the Lord's Supper) once per month.  All who know and love Jesus are welcome to participate, or you can choose just to observe if you prefer.
As we believe that prayer is important to interact with God and to get things done, each service includes some loving prayer by volunteers at the front to bless one another and to help our mission.
Since we want everyone to be involved in some way with our mission, we receive regular updates on church ministries, occasional missionary spots, book reviews, event promotions, testimonies and occasional children's talks, to help encourage and inform us in our Christian walk.
Services run for about one hour, followed by relaxed refreshments in the foyer for everyone.
Do we ever put guests on the spot?  No, we don't single out guests or put them on the spot unless they request it in advance.  You're our guest, and we aim to make you feel comfortable and at home.
Recordings of the Bible talks, or even a series of talks, are available upon request.
Children's Ministries
Thursday Play Group 0-5years
Play Group is paused during the COVID-19 pandemic and pending the appointment of a new coordinator.

Approved and security cleared volunteers provide a Play Group for babies and toddlers on Thursday Mornings (10am – 11.30am), with indoor play, toys and craft activities, morning tea time, an engaging Bible story, singalong time and outdoor play (in our brand new, purpose build secure playground).  Parents or Carers are responsible to supervise their own children, but volunteers add to this and aim to make the time relaxing for the adults too, including time for a cuppa and actual adult conversation!
Join our Facebook friends page:
https://www.facebook.com/Jump-For-Joy-Play-Group-2611525002254140/
Sunday Creche 0-3 years
Approved and security cleared volunteers provide a Crèche for babies and toddlers during the service (0-3yrs), with toys and craft activities, if parents would like to make use of this.
Sunday School 3-12 years
At around 10.30am in the church service, children aged 3 to 12 are invited to go out to Kids' Adventure Time (Sunday School).
Approved and security cleared volunteers provide Bible stories and Bible teaching to the children about God, his love for them through Jesus, and how to love others — all in a loving, nurturing and age-appropriate environment – along with crafts, stories, music and fun activities.
Home Group Bible Studies
Here at MBC we believe that small group Bible study is a great way to grow in understanding the Bible, and in helping us to apply what we learn to our lives.
It's also a great way to share our lives and encourage each other.
Every attender at our church is encouraged to be part of a small group. Most of these groups meet in homes scattered throughout the metropolitan area, so there will be one near you.  Speak to one of Church Council and they can help you join one.
Craft
'Craft' is MBC's response to the renewed interest in handicrafts and art in our community. Craft runs on Tuesdays, 9.30am – 11.30am, during school terms, and is open to every one of any background and ability.
Over the years hundreds of women and men (yes, men are welcome too!) have used their God-given talents to create works of art representing a huge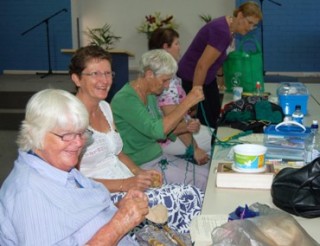 range of media, styles and techniques.
When available, group leaders teach people to learn how to make an array of different things.
Teddy bear workshops, decorated tops, patchwork, oil-painted landscapes on canvas, smocking, doll making, paper tolle, lovely gifts for Christmas… the list of crafts to join in goes on and on.
An ample morning tea is provided, and $2 is requested to help cover costs.
Pastoral Care
Sooner or later we find ourselves hurting.
The pastor and elders are available to provide help on spiritual and personal matters, as well as enquiries about Christian teaching.
But they are not the only people who are able to provide assistance during times of sorrow or difficulty. There are also other members of Melville Baptist Church who have the special spiritual gift of encouragement and support, as well as formal training in counselling.
Our food pantry, supplied via donations from the church people, provides emergency food for families in crisis.
For spiritual and personal counselling and prayer or emergency support, contact one of the support members or Church Council members whose profiles and contacts are supplied in the foyer.